A massive THANK YOU for your continued help and support, our Bonanza on Friday 22nd June raised a whopping £811 we are so grateful.
Cool Choices afternoon
Every day we are all faced with making choices, we make hundreds each day - but how can we make the right one?
Year 6 had a fantastic afternoon thinking about the decisions they make, and how to tell the difference between good and bad choices.
The afternoon was led by GenR8's Cool Choices team, and included a chance for the children to reflect on their own life choices, and decide what is important to them and what is not so important. The children wrote down 'family' 'friends' 'education' 'money' 'drugs' and many more, and placed them in order of importance, the children then had to justify their reasons.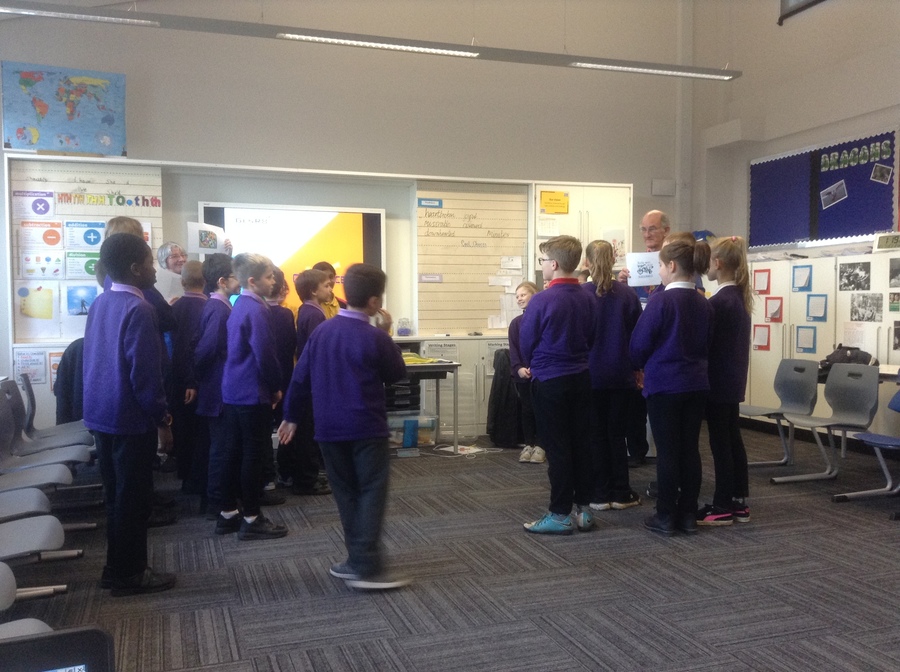 ...here you can see the children making a decision on something, and deciding which 'side' of the room to go on. The children were not able to go in the middle of the room, they were to decide one or the other, which was harder than it first seemed for some questions.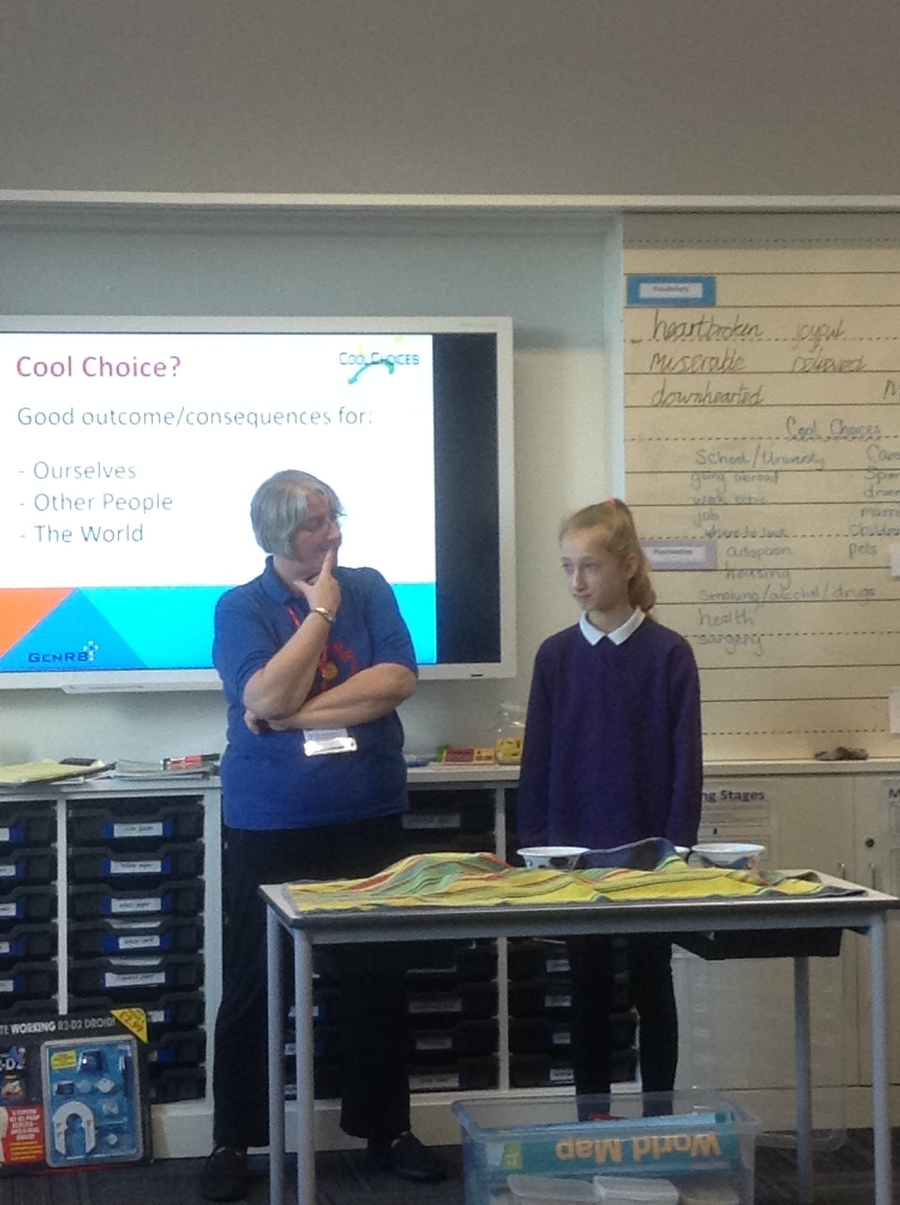 In this picture, *Ellie* tasted a crisp. She hadn't seen the packet and didn't know the flavour of crisp she was about to taste. Straight away she knew they were salt and vinegar flavour because she had tasted them before and knew that's what they were. However, the other children in the class had been secretly told to try and persuade her from her decision. In the end Ellie's peers managed to convince Ellie that they were not salt and vinegar flavour, and she changed her mind, even though at first she was convinced her decision was the right one. This shows the power of peer pressure, and how your decisions can be swayed easily by others.
The children found this message very powerful and went away thinking about being strong in their own choices, and following what they think is the right choice or decision to make, regardless of what their friends are doing or thinking.
How am I alive?
We started the year by becoming scientists for our 'How am I alive?' topic. We completed our own research using iPads to learn and write about famous scientists. Some of the scientists we researched include: William Harvey, who discovered the circulatory system; Wilhelm Rontgen who is famous for discovering x-rays; Jonas Salk who is known for invented a polio vaccine; and Alexander Fleming who discovered penicillin. We enjoyed writing biographies based on our research.
We also learnt about the circulatory system through reading nonfiction texts, labelling diagrams and even some drama in which we became different parts of blood such as: red cells, white cells, platelets and plasma. In Maths, we enjoyed collecting and accurately recording data in tables and plotting the results on a line graph. We were able to see the effect of exercise on our bodies by measuring our pulse and working out our beats per minute.
Are we Eco-friendly?
As part of our topic, we looked at different forms of transport we can use to get around the city. We looked at the benefits of walking, cycling and scooting to school. Year 6 had a great opportunity to take part in Bikeability Week. The children enjoyed taking part in the Bikeability course – they worked hard to achieve Level 1 and Level 2 certificates. Firstly, we had to check our bikes properly to make sure they were safe to ride. After practising on the playground, we went out on the roads and we learnt how to read different signs of the road and what risks we need to be aware of.
Back in the classroom, we built on our understanding of risk through our P4C lessons. We debated if it was safer to cycle or walk to school, showing some great P4C language as we argued our points of view, agreed and disagreed sensibly and were able to change our minds. To conclude the session, we showed our final opinion by standing on an opinion line.
In addition, we also wrote some interesting newspaper reports about cycling, safety awareness and a bicycle theft (luckily the bike was found!). We even had time to write an environmental poem, using research from homework based on sustainable energy and deforestation.
Who loves Chocolate?
To kick off our Chocolate topic, we researched how it was discovered and developed over time. We used this knowledge to write a chronological report, packed full of Year 6 skills. After that, we engaged further into chocolate using the well-loved book and film - Charlie and the Chocolate Factory. Our descriptions and stories based on this were fantastic! Plus, we were able to develop the descriptive skills that we learnt to independently show off our own, self-created chocolate bars. If that wasn't enough chocolate, we also ate various kinds of the sweet, tasty treat in a comparison text. Chocolate. Chocolate. Chocolate. We've come out of this topic with a full stomach and a brain full of describing characters, settings and atmosphere; using semicolons for multiple purposes; and using all of our five senses. Here are some examples of our writing.
Given all the chocolate we ate, we thought we'd have to consider healthy living. In science, we explored many different food groups; their purposes; the macro and micro nutrients each contained; and created our own week-long meal plan, ensuring our diet was balanced. We were burning off those extra calories in PE, whilst demonstrating mastery skills such as evaluating, creating and adjusting. We used the core skills in hockey to create our own drill, tweaking it to differentiate and keep everybody active.
Additionally, we explored the active parts of our daily routine. We used the data recorded and (with the help of our maths learning) presented it in a pie chart.
Lastly, learning about deserts was also on the agenda. We defined a desert (not to be confused with dessert); explored their features; located them on a map; and in groups, researched a particular one to create a well-presented, informative poster.